More and more people start to shop online. With the huge potential business opportunities, no wonder more and more people start to sell online. In this post, I am going to talk about how to be a savvy online shopper based on my own personal opinions, hope it is helpful for someone.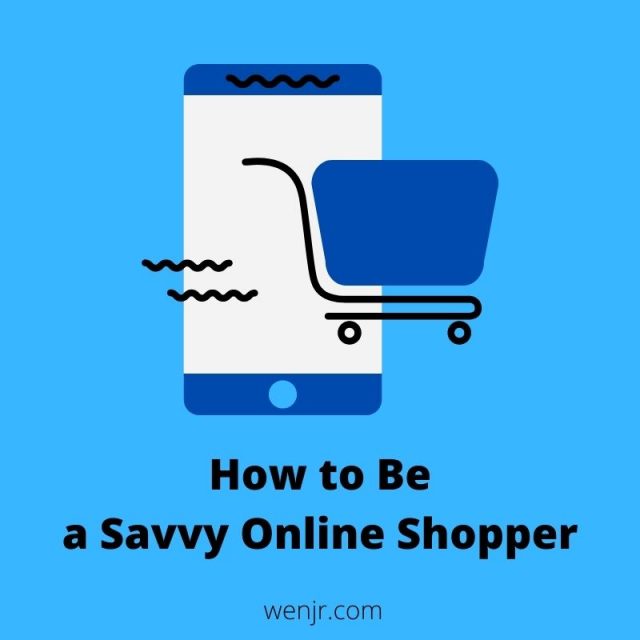 In my opinion, if you are going to buy an item that is more extensive than $500, I suggest you buy at an online store with a reputable store that has a physical store or chain stores. If something goes wrong, you could get it fixed quickly by visiting the store or calling customer service.
Should you buy everything in the big-name stores? Of course not. The first reason is, you can't find everything in the big-name stores. Second, as a customer, we should also support other small sellers, so we will have more choices.
If there are only one or several big-name stores, we will have few choices and we can predict the price will rise soon, which is not good for us customers. Imagine it, if we can only buy on Amazon, do you think you will get the cheap priced product with decent quality? Probably not. Customers could benefit from the competition between many sellers to get the best deal. 
If you are going to buy inexpensive items, you can choose independent stores or marketplaces. If you are purchasing something at an online marketplace with many different 3rd party vendors like Amazon and Etsy, you have to read the reviews first.
Unfortunately, many vendors will create fake reviews because they know customers will rely on these reviews to make their purchases. As a customer, I usually only read 1, 2, or 3 stars reviews to get an idea what is the issue of the product. If people complain that the delivery is too long and I think I don't mind it, I will still go to buy the product. However, if several people mentioned the serious quality problem, I will not buy that product. 
As I mentioned in my post: My Designs were Stolen and Sold on Amazon, many unethical sellers sell stolen designs almost everywhere including on the marketplace and their own stores. As we know, many stolen designs have blurry poor printing quality. Also,  no one wants to support a thief. We all want to support hard-working artist sellers.
As a buyer, how can we know if these designs are stolen? Based on my personal opinions, first, read reviews. If some people mentioned the image is very blurry, usually, it is because it is a stolen image. I will not buy anything from that seller. 
On some online stores, you will find almost every product with a review that is 4-star or 5-star without any detailed comments. In this case, I will stay away from this type of store. They just look suspicious to me. 
Second, read the about page. An independent artist store owner usually will tell the people who they are, why they opened their store etc. Some artists will also put the phone number and email address or even physical address online, so the customers can contact them. They also have social media links to show their works. The thief usually won't do anything like this. They know what they are doing. 
In some cases, some overseas thieves will put the American phone numbers or business addresses too to make the store looks authentic. If you do a quick online search, you will find the phone number and business address usually belongs to another business that might handle the printing or storage. 
In some extreme cases, the thief only puts hundreds or thousands of stolen designs online and never sends the products, especially, if they live abroad. As a customer, we can do nothing about it because they won't get the penalty. That is why I always stay away from this type of online store.  
Also, pay attention to the artist's style. Usually, an artist has some specific style.  Some artists might have mixed styles including cute kawaii style and scary dark them styles, mostly, an artist usually develops his own kind of specific style, which becomes his authentic signature among the crowd.
Based on what I talked about above, usually, we will filter out most fake stores, However, there are always some exceptions.
I found a store located in the USA with a very authentic-looking, but I know they sell stolen designs. How? One of the product images is from another seller with the seller's watermark on it. Maybe some people think they can just take whatever they find online. That is why it is always helpful to right-click the mouse to do a quick image search. 
By the way, always stay away from the super cheap online store. Usually, the quality is poor, the design might be stolen too. It is always a good idea to buy decent quality products at reasonable prices from honest sellers. 
I hope this post is helpful. Everyone has his own opinion about shopping. If you have other good ideas to help people be savvy shoppers, you are welcomed to leave comments below the post. Thank you for reading.